Sailings for our 2017 season have now commenced!
**MAY BANK HOLIDAY FLASH SALE 2017**
To celebrate the upcoming May Bank Holiday Weekend, we are offering €4 off all our adult, student/senior and child tickets for the below sailings until Monday 1st May! 
*Dun Laoghaire to City Centre 9.30am
*City Centre to Dun Laoghaire 11.00am
*Dun Laoghaire to Howth 12.30pm
*Howth-Ireland's Eye Roundtrip 2.15pm
*Howth to Dun Laoghaire 3.30pm
*Howth to City Direct (Friday 28th April only, 1.30pm)
Click here to book now!

Award Winning Cruises
Perfect for Corporate Events and Private Parties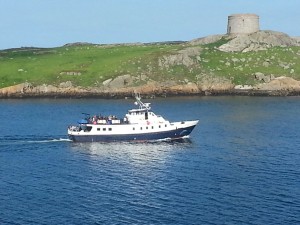 This idyllic cruise on the capital's beautiful Dublin Bay has become a "must" on every one's to do list. With views of the stunning landscapes of the Dublin Mountains, Ireland's Eye, Lambay Island, Dalkey Island, Joyce's Martello Tower, the Baily Lighthouse to name but a view, this is a day out not to be missed. Why not take a trip on Dublin's beautiful living bay and enjoy the city from a truly unique perspective.
We sail between Dublin City, Dun Laoghaire and Howth 7 days a week between April and October. Your Dublin Bay Cruise ticket also allows the holder to travel the same day between Howth and Dun Laoghaire by DART train for just €2.
The following award winning restaurants are offering 10% off your food and drinks bill with your same day Dublin Bay Cruises passenger ticket.
Howth: The Oar House, Aqua, The Brass Monkey, The Dog House, Wrights Findlater ,The Abbey Tavern.
Dun Laoghaire: The Purty Kitchen
Dublin Bay Cruises as featured on TV3